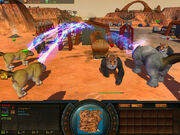 Gameplay
Edit
The Point Of Player Vs Computer Is To Beat Your Opponent Before They Do.
Destroy Enemy Lab
Edit
The Objective To Destroy Enemy Lab Is To Destroy The Enemy Lab.
Destroy Enemy Base
Edit
The Objective To Destroy Enemy Base Is To Destroy Everything You're Opponent Has.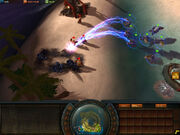 Hunt Rex
Edit
In Hunt Rex You Gotta Hunt Down The Enemies Rex Chance And Kill Him As Well As Protecting Your Rex Chance.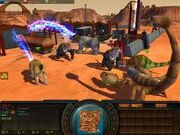 Main Characters
Edit
In Player Vs Computer You Get The Main Characters Of Impossible Creatures Excluding Dr Chanikov
Rex Chance
Edit
Porceetah Porcupine/Cheetah' Poison Ramog Poison Frog/Ram' Mountain Crocion Mountain Lion/Crocodile' Snowy Panthowl Snowy Owl/Panther' Pirioness Piranha/Lioness' Bullnet Hornet/Bull' Babull Baboon/Bull' Rhineetah Rhinoceros/Cheetah And Lobstale Sperm Whale/Lobster.
Lucy Willing
Edit
Camunk Camel/Skunk' Archemel Archerfish/Camel' Chamerine Chameleon/Wolverine' Cheetupine Cheetah/Porcupine' Pantholf Panther/Wolf' Electric Gireel Electric Eel/Giraffe Coyimpanzee Coyote/Chimpanzee' Liopotamus Lioness/Hipppotamus And Coyale Coyote/Sperm Whale.
Whitey Hooten
Edit
Archerdog Archerfish/Coyote' Chamena Chameleon/Hyena' Mountain Wolf Mountain Lion/Wolf' Muskupine Musk Ox/Porcupine' Hammerchimp Hammerhead Shark/Chimpanzee' Polar Frog Polar Bear/Poison Frog' Killox Killer Whale/Musk Ox' Tigobster Tiger/Lobster And Shark Owl Great White Shark/Snowy Owl.
Velika Le Pette
Edit
Camrat Camel/Rat' Komodo Panthgon Komodo Dragon/Panther' Electric Eelgle Electric Eel/Eagle' Liobull Lioness/Bull' Chimpbat Chimpanzee/Bat' Spitting Bull Spitting Cobra/Bull' Rhinornet Rhinoceros/Hornet' Killer Whalness Killer Whale/Lioness And Snapping Liotle Snapping Turtle/Lioness.